2021 Events
Date & Time
Sat 09 Oct
01:00 PM to 04:00 PM
Region
South West
Venue
Big Swamp Reserve
Address
Prince Philip Drive, Bunbury
Bunbury
,
WA
,
Opening Ceremony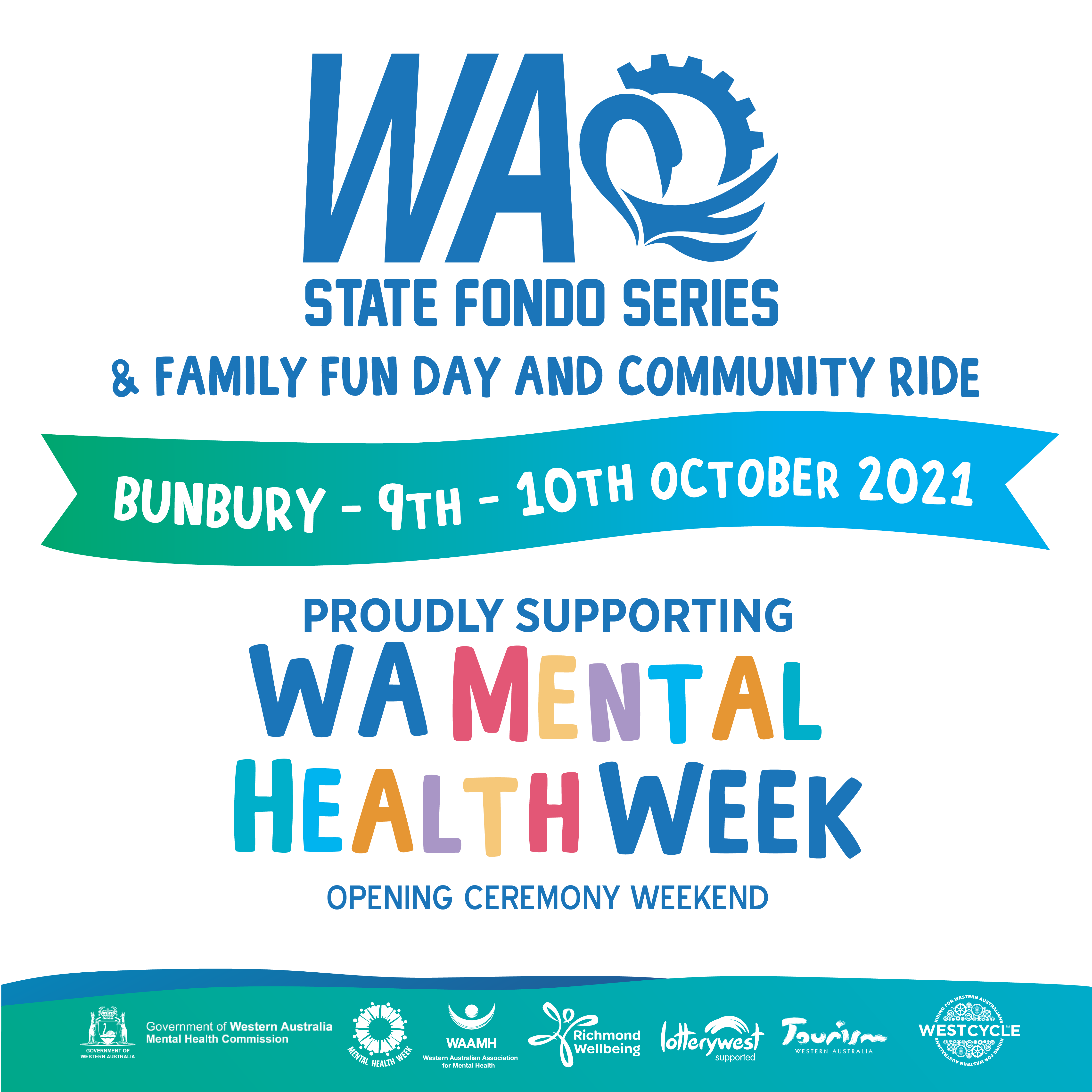 Join us in Bunbury this year at the Big Swamp Parkland for a Family Fun Day as part of the Mental Health Week Opening Ceremony on Saturday 9 October followed by the FONDO Series Cycle departing from the Dolphin Discovery Centre on Sunday 10 October (World Mental Health Day) at 7:30am, in a partnership between the Western Australian Association for Mental Health, Richmond Wellbeing, and West Cycle, supported by the WA Mental Health Commission, Lotterywest, Tourism WA and the City of Bunbury.

This year's theme 'Mental health starts with our Children' and events and activities will centre around how crucial the early years are for instilling lifelong reliance, wellbeing, emotional regulation and optimism.

Peak body for cycling in WA, West Cycle has planned to run its third ride in the FONDO cycling series in Bunbury this year which coincides with both World Mental Health Day, WA Bike Month, and the opening weekend of WA Mental Health Week.

A synergy was identified to partner in presenting this event as well as opening it up to the broader community with a family fun event component the day ahead of the ride.

Bike riding is a socially inclusive and accessible activity for most families and children to take part in and the protective health benefits of cycling are well documented.

Recreational and event cycling can offers individuals, children and families a range of mental and physical health benefits including reduced anxiety and depressive symptoms; a more relaxed and affordable mode of transportation; mindfulness; social inclusion and community connection; better access to sunlight; fresh air and the outdoors; a sense of adventure and the benefits this brings; improved mood and self-esteem; improved strength, fitness, coordination and concentration; better sleeping habits; and encourages goal setting behaviour.

The Opening event in Bunbury offers a great day out for the whole family whether you're on the way back from down south at the end of school holidays; based in the region already; or looking for a day trip / weekend adventure from Perth - there will be stacks of activities at Big Swamp Parkland including a kids bike track, pump track, creative crafts upcycling old bikes, and much more!

Even if you can't make the physical event, we are encouraging everyone around WA to get outdoors with family and friends and go for a ride Statewide - tag us in your photos on Instagram and Facebook.

Registrations to attend the family fun day on 9 October are FREE!

To participate in the FREE family fun day or the ticketed FONDO cycle course on 10 October - or both! - head to westcycle.org.au
This is a public event open to the whole community.
Got something planned?
Let us know what you're doing in your workplace, school or community this Mental Health Week and we'd love to feature it here!
List your event