← Back to events
Date & Time
Mon 09 Oct
04:00 PM to 05:00 PM
Venue
Sully & Sage Wellness Collective
Address
6/ 34 Baynes street
Margate
,
QLD
,
4019
Calm - a program for kids with big emotions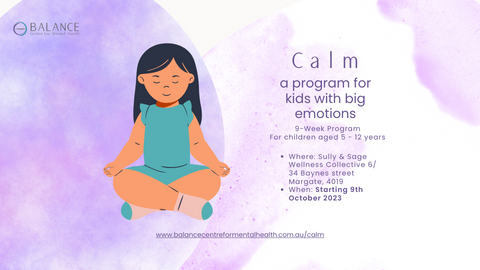 ABOUT THE COURSE Calm – A tool box for kids with big emotions is a program based on the principles of Cognitive Behaviour Therapy (CBT) and Mindfulness. These two therapies are proven to assist in emotion regulation and distress tolerance.
The program covers topics such as: Mindfulness The Breath Thoughts Feelings Meditation Letting go - Impermanence Gratitude Worry Loving Kindness Bravery Growth Mindset Self-Talk Affirmations Resilience Calm Anger Stillness Happiness
Led by the experienced facilitator, Alice Grey, a skilled child developmental educator and counsellor, the program offers a nurturing environment where children can learn and bond with their peers.
This is a public event open to the whole community.
Got something planned?
Let us know what you're doing in your workplace, school or community this Mental Health Week and we'd love to feature it here!
List your event