← Back to events
Date & Time
Fri 13 Oct
09:00 AM to 02:00 PM
Address
Selective Mutism Clinic
St Leonards
,
NSW
,
2065
Webinar - Selective Mutism Treatment for Speech Pathologists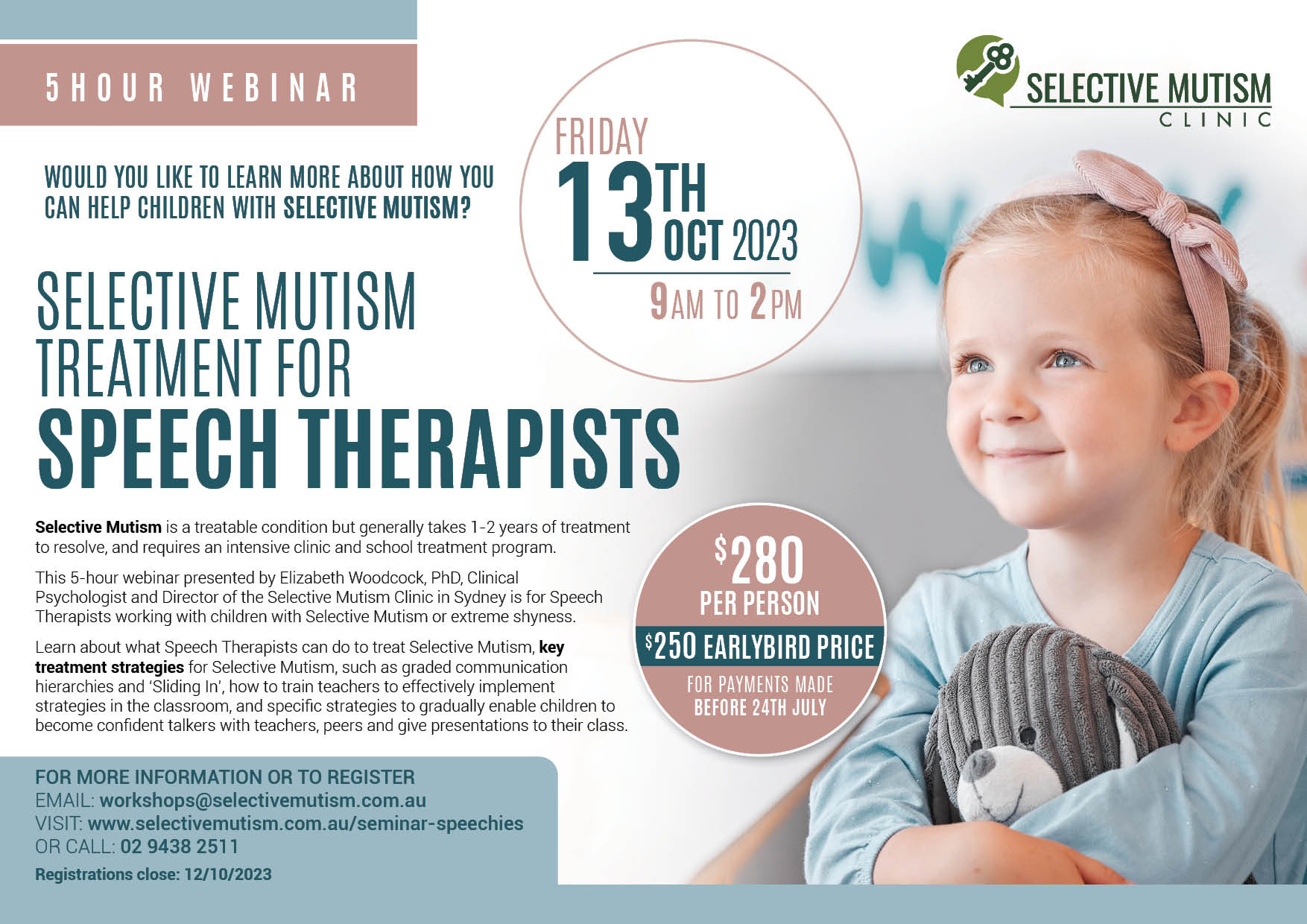 This 5 hour webinar by Elizabeth Woodcock, PhD / Clinical Psychologist and Director of the Selective Mutism Clinic, provides detailed strategies specifically for Speech Pathologists about assessment and treatment of Selective Mutism in Children.
Children with Selective Mutism are often referred to a Speech Pathologist given their difficulties with communication. However given that Selective Mutism is an anxiety disorder rather than a speech disorder, some Speech Pathologists are unsure whether to take a leading role in the child's treatment or whether to address the comorbid speech issues alone and also involve a psychologist in treatment. Some Speech Pathologists are keen to take on the main role in treatment and are able to achieve great outcomes. This webinar provides the information necessary to give Speech Pathologists the confidence to take a lead role in a treatment program for Selective Mutism.
LEARNING OUTCOMES: The webinar aims to build Speech Pathologists' understanding about Selective Mutism in preschool and primary-school aged children. A '5-stage Model of Communication' that underlies the treatment program is discussed with various practical goals to use at each of the child's stages of communication within the school environment and other social situations as well as other evidence-based strategies for selective mutism such as 'Sliding In'.
In line with the Selective Mutism Clinic's three-pronged approach, strategies are discussed that:
Train the classroom teacher to be an effective coach for the child and to implement an intensive school program that targets the child's communication issues. Included in this is how to set up the best school environment for the child and select a classroom teacher who will maximise the child's chance of success.
Deliver sessions to the parent and child in the clinic or via telehealth to build the child's skills in managing anxiety and other emotions, and strategies for the parent to teach their child about emotions.
Teach the parent how to support their child with practising communicating in various social settings outside school, such as at the shops, cafes, and extracurricular activities.
TOPICS COVERED:  What is Selective Mutism  Epidemiology and aetiology of Selective Mutism  5 stage model of communication for Selective Mutism  Factors that make it easier or harder for children with Selective Mutism to communicate (the "Communication Changers")  Assessment of the child using clinical interview, clinic observations, questionnaires, and interviews with the classroom teacher  Complexities and comorbidities in Selective Mutism, including Language Disorders and Autism, and when to assess and treat these comorbidities  Key treatment strategies including 'Sliding In' and 'stepladders'  A teacher-led school treatment program, which includes building the child's talking with the classroom teacher, generalising their talking to all peers and teachers, and expanding the child's speech to small groups and whole class situations  General do's and dont's for how people should respond to a child with selective mutism  Education for all staff at a school about selective mutism  When it is important to involve a psychologist  Specific treatment strategies to use at preschool/school and in the classroom including:  Starting out strategies, including educating all staff about selective mutism  Building and expanding talking with the classroom teacher, including the 'Sliding In' strategy  Generalising talking to friends, and eventually each child in the class  Building children's communication in small groups in the classroom  Helping children communicate in whole-class situations and in front of the class  Generalising talking to other teachers and staff  Expanding talking so that it becomes more spontaneous  Strategies to help a child transition to a new school year and new teacher  Strategies to teach parents  There will be an opportunity to ask questions to the presenter, Elizabeth (a Clinical Psychologist) and Rosy Lloyd, our Speech Pathologist at the Selective Mutism Clinic
The webinar price is $280. Cancelled bookings can be transferred but not refunded.
If you can't make the live webinar, our website has options to purchase a:
a) Previous recording on USB: https://selectivemutism.com.au/product/usb-speechies/ b) 4-week online access to a recording: https://selectivemutism.com.au/product/recording-speechies-sm/
This is a public event open to the whole community.
Got something planned?
Let us know what you're doing in your workplace, school or community this Mental Health Week and we'd love to feature it here!
List your event