2021 Events
Date & Time
Sun 10 Oct
10:00 AM to 01:00 PM
Region
Perth Metro
Venue
Ledge Point Country Club - on the green
Address
Turner Street
Ledge Point
,
WA
,
6043
Contact
Ledge Point Community Association. Contact people: Craig Douglas and Jen Woodfield 0400 806 900
[email protected]
0429 853 396 & 0400 806 900
Ledge Point Barefoot Bowls and Brunch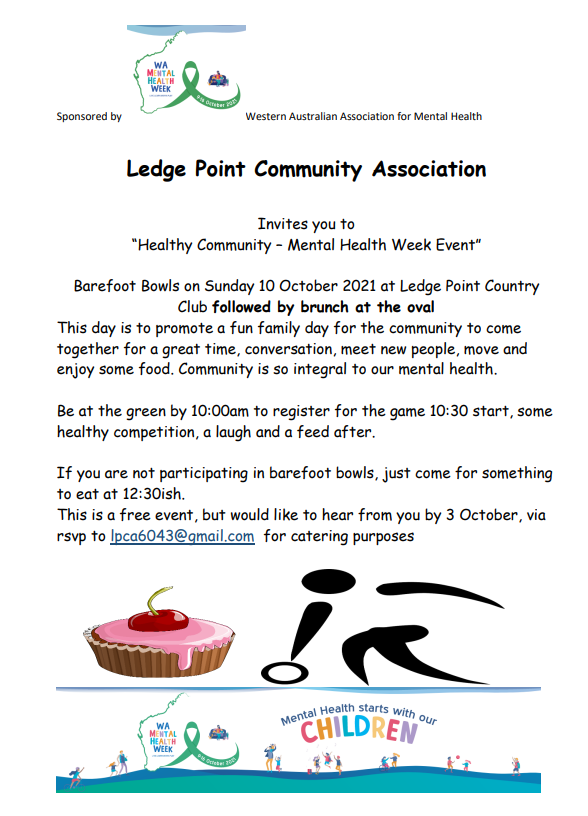 Be at the green by 10:00am to register for the game 10:30 start, some healthy competition, a laugh and a feed after. We intend to hold and activity and brunch/lunch for community. Barefoot bowls will be held to encourage movement and exercise for improved mental health as well as physical health and reduce stress. Promote the message that when you exercise, more blood gets pumped to your brain, which can also help sharpen your concentration. Our community youth will also be encouraged to participate and will be catered for in these activities. Contact people: Craig Douglas(0429 853 396) and Jen Woodfield (0400 806 900)
This is a community free event
This is a public event open to the whole community.
Got something planned?
Let us know what you're doing in your workplace, school or community this Mental Health Week and we'd love to feature it here!
List your event