← Back to events
Date & Time
Mon 09 Oct
09:00 AM to 04:30 PM
Venue
Bunbury Geographe Chamber of Commerce
Address
15 Stirling Street
Bunbury
,
WA
,
6230
Bunbury 2023 Mental Health Week Art Exhibition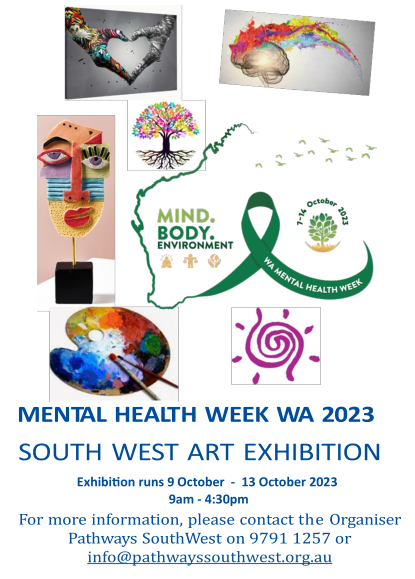 Enter an Artwork into this year's MHW 2023 exhibition! All entries are welcome and all are invited to participate.
Details: Submit one artwork per person – a painting, drawing or photograph. Only one entry/work per person, no bigger than an A3 piece of paper preferred. Larger pieces will need to be discussed with the Organiser, Pathways SouthWest, prior to submission. A completed MHW 2023 entry form must be submitted with each piece (see other side). Space is limited (max 40 pieces) and acceptance of works will be on a first come basis.
Theme: MIND, BODY, ENVIRONMENT ENTRY IS FREE Exhibition Runs: 9 October - 13 October 2023 9:00am-4:30pm Pick up art works: Monday 16 October 2023, 10am to 4pm Where: Bunbury Geographe Chamber of Commerce and Industry Address: 15 Stirling Street, BUNBURY All work entered is subject to selection for exhibition. The Organiser reserve the right to withhold any work from exhibition if deemed unsuitable or if space does not allow. Works must be the original work of the artist. No late entries will be accepted. Framing is recommended for all drawings and photographs. All sculpture works must not exceed a base of 45cm by 45cm. Artworks must meet health and safety standards when installed or risk rejection from the exhibition. DELIVERY, FREIGHT & INSURANCE Artworks must be delivered between 10am and 4pm, Wednesday 4 October 2023. Work will not be accepted after this date. An entry form must be delivered with the artwork. Artists must arrange and meet the cost of freight to and from the BGCCI. No artwork will be accepted where there is freight to pay. The Organiser will not accept responsibility for works damaged in transit. All works must be suitably presented, ready for exhibition. The Organisers hold no responsibility for the insurance of artworks while being held or displayed at the BGCCI. Insurance is at the discretion of the artist. COPYRIGHT Copyright remains with the artist but the artist will extend the Organiser the right to use images of artworks for promotion and education purposes. SALES Artworks can be offered for sale. A sales contact to be noted on the Artist Entry Form for all sale requests. All sales requests will be the responsibility of the artist or their representative. PICKUP OF ARTWORKS All works to be kept duration for the exhibition, Monday 9 October – Friday 13 October 2023. All works to be collected on Monday 16th October 2023 between 10am – 4pm. The Organiser accepts no responsibility for the safekeeping of works after this date.
This is a public event open to the whole community.
Got something planned?
Let us know what you're doing in your workplace, school or community this Mental Health Week and we'd love to feature it here!
List your event