← Back to events
Date & Time
Sun 08 Oct
10:00 AM to 04:00 PM
Address
Mundaring Weir Road
Mundaring
,
WA
,
6100
Eco Anxiety Workshop: Nurturing Well-Being Through Nature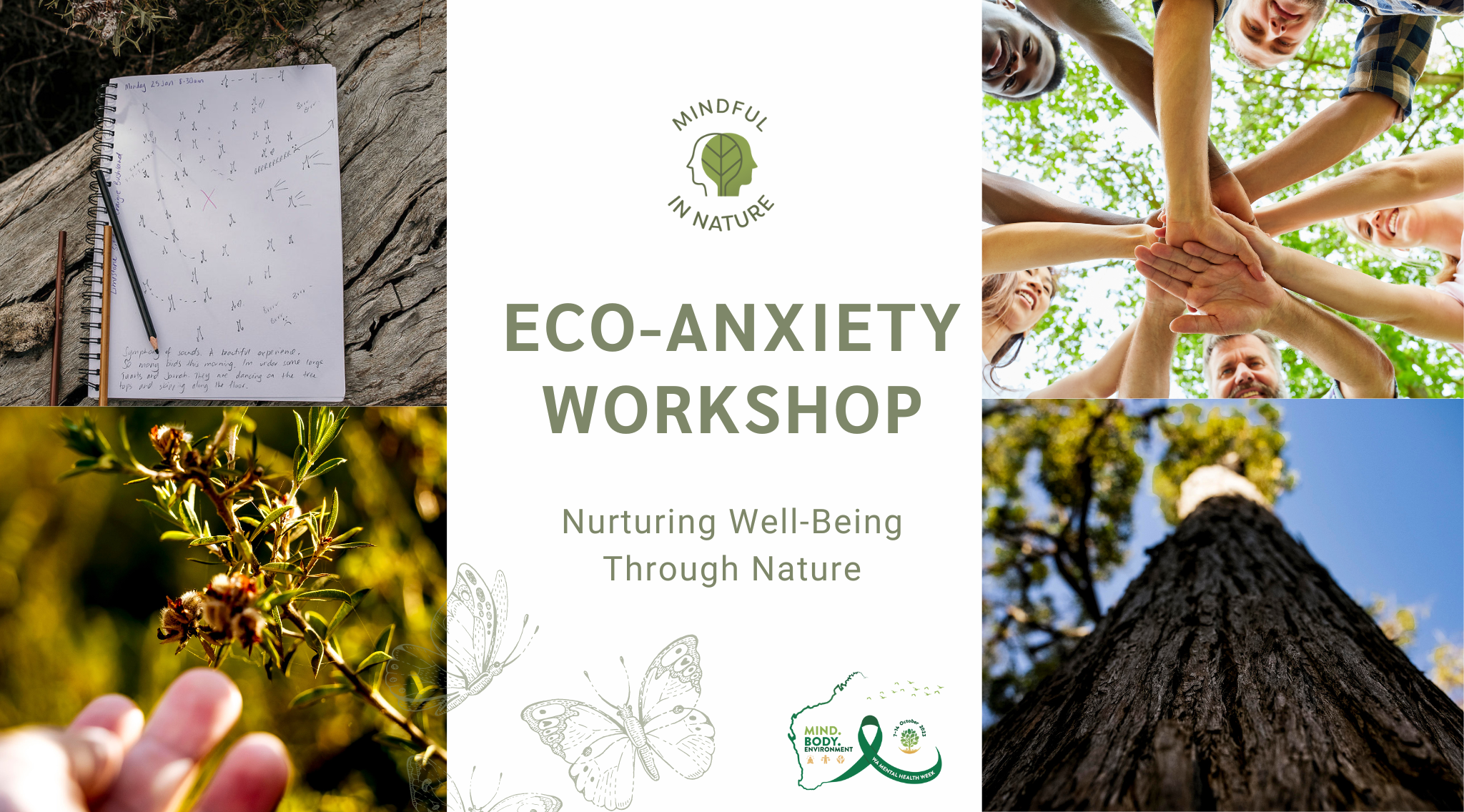 Eco Anxiety Workshop: Nurturing Well-being through Nature
Join us for an enlightening experience during WA Mental Health Week. Immerse yourself in the Perth Hills during the season of abundance and transformation and embark on a journey of self-discovery and ecological connection.
Workshop Highlights
Alleviate Eco-Anxiety: Learn practical techniques to ease eco-anxiety's grip. Through guided activities, learn to channel worries into positive actions, fostering a healthier mindset. Reconnect with Nature: Wander amongst wildflowers and trees, breathe in crisp air, and absorb the soothing energy of the outdoors. Rediscover your bond with the environment and experience the therapeutic power of nature. Cultivate Inner Peace: Through mindful practices, uncover tools for inner calm. Explore meditation and reflection in the midst of serene surroundings, leaving you rejuvenated and centered. Foster Ecological Harmony: Understand the deep connection between personal well-being and environmental health. Discover how nurturing one fuels the other, paving the way for a more balanced and harmonious existence. This workshop is about thriving. It's an opportunity to align your well-being with the world around you, fostering a sense of purpose and ecological responsibility. Connect with like-minded individuals, share insights, and walk away with a renewed spirit and actionable steps toward a more sustainable and joyful life.
Limited spots available. Secure your place now and embark on this meaningful journey of self-discovery and environmental harmony. Your well-being matters, and so does the planet's. Let's nurture both, together.
Cost $154.00
This is a public event open to the whole community.
Got something planned?
Let us know what you're doing in your workplace, school or community this Mental Health Week and we'd love to feature it here!
List your event