← Back to events
Date & Time
Mon 10 Oct
11:00 AM to 12:30 PM
Venue
The Agonis Building - Lyal Richardson Hall
Address
2232 Albany Hwy
Gosnells
,
WA
,
6110
Meditation and Sound Bath for Women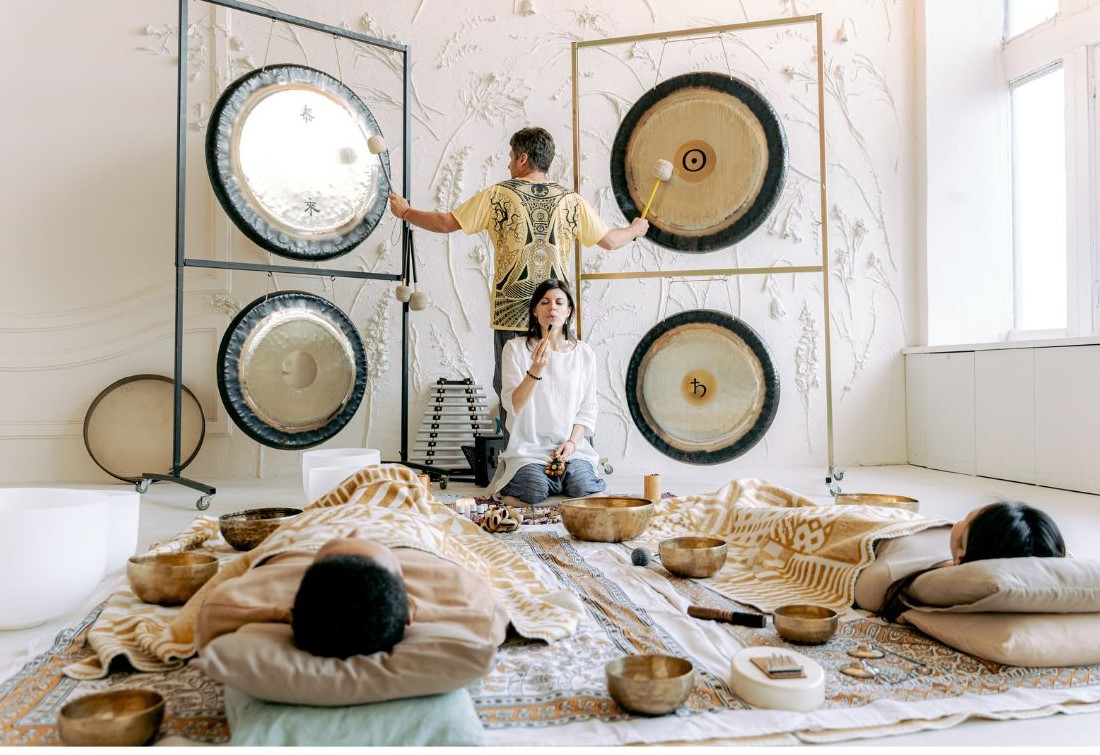 Experience a soothing guided meditation and sound bath during Mental Health Week.
Research shows that there are multiple benefits of music on mental and physical health. In a meta-analysis of 400 studies on the neurochemistry of music, Levitin and Mona Lisa Chanda, PhD, found that listening to music increases production of the social bonding hormone oxytocin and the immune system-boosting antibody immunoglobulin A.
Relaxing music may also reduce levels of the stress hormone cortisol which may be one of the reasons why listening to music may calm our minds.
Yoga mats will be provided for your comfort so you can lie down for the duration of the meditation. Please bring a blanket to put over you (or two if you would like to lie on a blanket) and a small pillow for under your head.
You will be guided through a meditation on the theme of compassion for self and others. Following this you will be immersed in a deeply relaxing sound bath using Tibetan Singing bowls, Koshi chimes, a rain maker and more.
The Women's Health and Wellbeing Service welcomes all women including transgender women and non-binary individuals to their events.
"This event/equipment was funded by the Western Australian Association for Mental Health as part of Mental Health Week 2022."
Benefits:
Take time out for your self-care
Reduce stress and improve mental health
Research suggests relaxing music and sounds may benefit your immune system and cardiovascular system
Increase alpha brain waves associated with calm and relaxation
Lie down and do nothing! Allow the sounds to calm and soothe you.
Contraindications: This workshop is not recommended for people with more severe/clinical mental health conditions. Please speak to your Doctor or health practitioner for more information.
WHEN: 10th October
TIME: 11am - 1230pm
VENUE: The Agonis building - Lyal Richardson Hall
2232 Albany Hwy, Gosnells WA 6110
COST: $35/30concession
WHAT TO BRING:
Water bottle, two blankets and a cushion/pillow for your head.
Please arrive 10 minutes early for set-up. the events
About the Facilitator:
Julian Silburn
Julian is a didjeridu player, performer and teacher with a passionate interest in Aboriginal culture and music. Julian has been taught by a number of Yolngu elders in Arnhemland and Noongar elders in Western Australia. Having collaborated with them musically and culturally over many years, he has their blessing and approval for using the didjeridu in his healing, performance and teaching work. (Image right: supplied by Julian Silburn playing Didjeridu)
Romney Jones Health Promotion Officer
As an experienced Counsellor and skilled Group Facilitator with over ten years' experience facilitating health and wellbeing programs, Romney brings a rich toolkit of knowledge to her health and wellbeing groups.
Romney has a musical background and has provided guided meditations, music and sound healing at yoga centres and wellness events.
This is a public event open to the whole community.
Got something planned?
Let us know what you're doing in your workplace, school or community this Mental Health Week and we'd love to feature it here!
List your event